Read our blog!
busnumber7.blogspot.com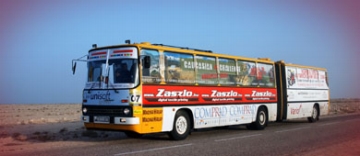 The legend is reborn. Bendy bus hits the desert roads again. The crazy mission: catering bus in the Sahara!
Bus number 7 is an articulated bus altered to a rolling hostel, information and entertainment center. On its first challenge she crossed the Sahara in January/February 2008 participating the Budapest-Bamako Rally. The 9-person team traveled 16,000 kilometers (or 10,000 miles) to the heart of Africa, the capital of Mali, Bamako and back to the heart of Europe, Budapest.
Now "Bus number 7" is ready to conquer Africa again with an even more crazy mission to function as a catering bus! Get acquainted with a unique initiative, have a look at the extraordinary vehicle, travel with us through astonishing lands, meet a stout-hearted team, be a part of an unforgettable adventure!